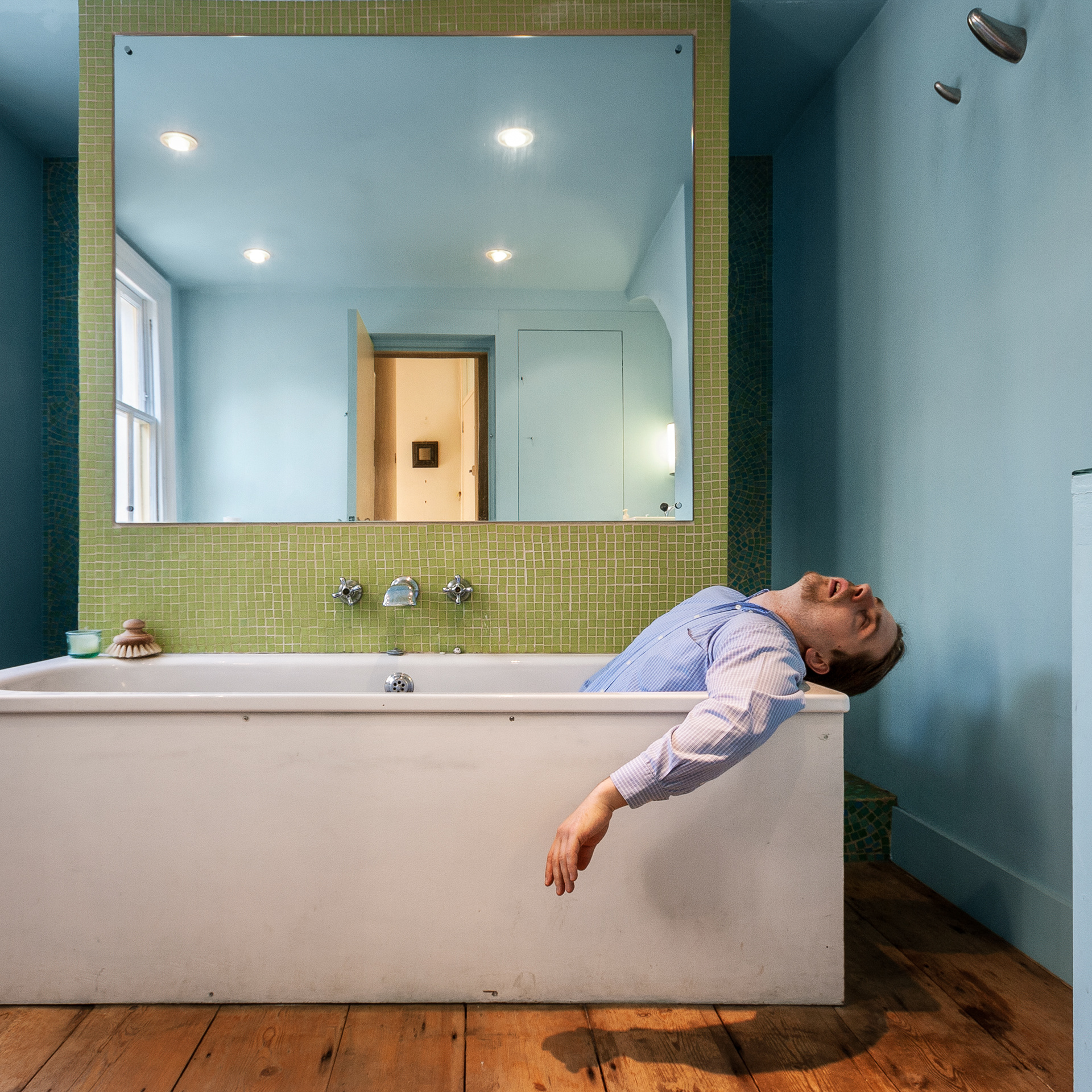 This image was taken in 2008 in a moment of downtime and I consider it as the beginning of my rather personal project. It was created for a simple reason: as an idealist educated in a communistic Poland I couldn't accept myself in the role of commercial photographer.
For me photography was something more than technical perfection and I felt completely empty taking pictures with the aim of earning money. I felt the desire to create something less 'processed', something that nobody would buy, something what would show my emotions or lack of them. Create anything. And that is how The Bathroom Project was born.
As an architectural photographer I had access to many interiors in London. I loved my regular job, but I could not imagine myself not taking portraits of people. I came to London straight after university eighteen years ago with only one suitcase. It contained some clothes, a film camera and two 500W bulbs – everything I potentially needed to create photographic portraits. 
At that stage I felt like an 'English Man in New York', had no friends there, no money to hire models, my English was too raw to start a career as a portrait photographer, so I decided to stand in front of my camera on my own. But because I was almost always accompanied by my clients, the only spaces where I could have a few seconds of privacy were… bathrooms.
I remember that that day my client was following my every step, discussing each photograph taken etc. It was quite difficult to me to talk continuously in a foreign language, focusing on the technical aspect of my job at the same time. I got tired quickly but luckily had only one more interior left to photograph. It was a bathroom with a mirror located in the center of the frame. I felt a brief relief, because the client had to stay away, so I could take this image without him reflecting in the mirror. I was left alone in someone's bathroom for the first time that morning. I pressed a button on my camera, previously set on self-timer. Then I had few seconds to jump in to the bath and pose myself for a Marat. The photograph I created – in spite of not being really great technically (compared to my perfectly exposed interior images) rather surprised me. It surprised me to that level that I photographed myself in almost two thousand other bathrooms in a space of few years; just to give the whole project a bigger impact.
The process of getting these images done was incredibly exiting for me. When I did see a space, which could potentially become a scene for my happening, nothing could stop me. With my customers waiting in corridors next to the wet raincoat stands, I was pulling my shirt off and jumping into the empty bath tubs, trying to pose myself in dramatic way, like the figure of Marat on Jacques-Louis David's painting. Every action like this made me happier. I was finally creating something. I felt good even if the pictures were rubbish. Rubbish and downtime have a lot in common after all.
I often wonder: why did David's painting strike me so much that I decided to use it as an inspiration? Did this painting reflect for me the hopelessness of people in our commercial, consumer society? Marat is also a symbol of revolution, but can this painting be only read in connection with desperate and angry people throwing stones on the streets? David's painting was constructed precisely so that every viewer - despite his background or ability to interpret historical scenes - could see a defeated man holding a quill pen. And with that feather tool, the ability to fight the system, to express free thoughts and ideas - ideas which, sometimes, can change the world.
At the very beginning, paraphrasing 'The Death of Marat' was very superficial. It was just a formal method to frame the right composition and also attempt to show a human being outlined within the simple, classical form of a bathroom. Later, I realised that there was another reason that pushed me into all these bathrooms. I wanted to picture loneliness and hopelessness, the feelings that Marat must have, when he spotted Charlotte Corday in the doorway of his bathroom, feelings that we all try not to feel.
Marcin Noga, November 2021.